Hamburg/Darmstadt, 19.10.2021 – The leading Factory Data Hub Cybus Connectware is now conveniently and standardized available via the ADAMOS STORE, a vendor-independent industrial marketplace for digital products and digital business models. Cybus Connectware enables fully comprehensive, automatable industrial connectivity for the discrete and process industries.
Every successful IIoT use case is initiated by the connection and integration of a wide variety of machines and systems. Often underestimated, shop floor connectivity is not only a big challenge, but also – if successfully implemented – the biggest value driver on the way to the smart factory. As a technology-neutral layer, Cybus Connectware masters this challenge easily and positions itself seamlessly and completely vendor-independently between the shop floor and IT.
"Platforms and digital marketplaces are well established in the B2C environment. Recently, interest in these new business models of the digital economy has also been growing in the B2B environment. On the way to Industry 4.0, such an offering can leverage new potentials and help companies in all industries to position themselves successfully. Through the partnership with ADAMOS as an independent provider within open marketplaces and Cybus as an independent provider of the Factory Data Hub, customers can use this "Perfect Harmony" to leverage new potentials" says Carsten Stiller, CSO at Cybus.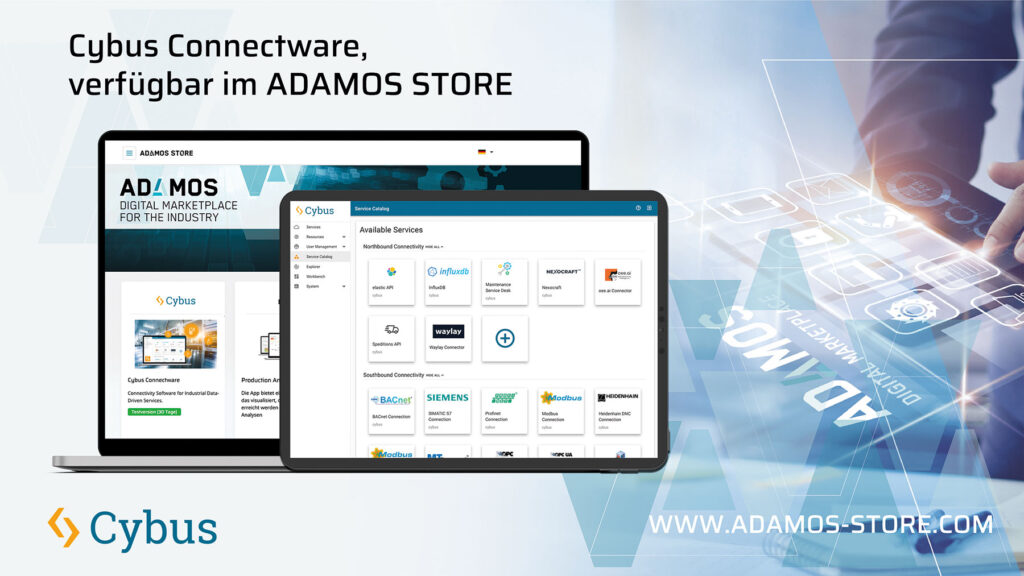 Vendor-independence and technology-neutrality
ADAMOS STORE and Cybus are equally designed to simplify and harmonize the buying process and application of digital solutions for customers. Thus, the open and transparent ecosystem around ADAMOS STORE and ADAMOS HUB ensures vendor-independence and technology-neutrality. To fully integrate a broad portfolio of machines, data and applications, Cybus Connectware, the Factory Data Hub for data architecture and industrial connectivity, is now available in the ADAMOS STORE and pre-integrated with the ADAMOS HUB. Cybus customer gain full data sovereignty on the shop floor and seamless integration with the products provided in the ADAMOS STORE via the ADAMOS HUB.
"The partnership with Cybus is an important part in the ADAMOS ecosystem. The majority of the products offered in the ADAMOS STORE work with machine and industrial data. Cybus Connectware is a convenient and secure way to integrate exactly this data from the shop floor" says Dr. Marco Link, CEO of ADAMOS, about their partnership with Cybus.
Customers in the discrete and process industries can now access Cybus Connectware through the ADAMOS STORE at www.adamos-store.com.
Cybus GmbH: Data infrastructure for a connected factory
Cybus is a specialist for data infrastructure in smart factories from Germany, founded in 2015. With its software Cybus Connectware, Cybus ensures the seamless and fully automatable data flow between shop floor and IT. www.cybus.io
ADAMOS: For a strong, digitized mechanical and plant engineering industry
ADAMOS is specifically tailored to the needs of mechanical and plant engineering and its customers. With ADAMOS STORE, it offers the first vendor-neutral industrial marketplace for digitally pre-integrated products. The digital marketplace ADAMOS STORE and the integration platform ADAMOS HUB, give customers easy access to industrial software offerings. For customers, ADAMOS STORE simplifies the acquisition and, via ADAMOS HUB, the use and management of apps. www.adamos.com
You could also be interested in: